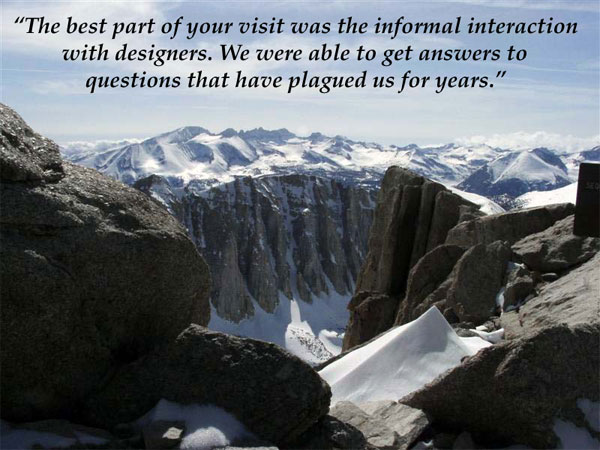 The view south from Mount Whitney
Consulting Services
We'd been struggling for years to decide between SystemVerilog and Verilog-AMS. Ken and Henry explained all of the trade-offs and we were able to make a decision.
Verification lead of a serial-deserializer chip
While consulting is a small part of our business these days, it can be just the thing to get you started along the right path. A brief conversation with you and your team can clear up any misperceptions, educate you on the available options, help you estimate your resource needs, and make decisions early that would be costly to reverse.
One common decision we help verification teams with is what type of models should you use. Specifically, should you use continuous-electrical, discrete-electrical, or discrete-real models. This is a decision that is strongly affected by the kind of systems you are designing, your verification goals, and your budget; and it involves non-obvious trade-offs.
Verification Services
Designer's Guide provides a one-stop shop solution for analog verification. We appreciate how they can mix and match solutions to fit our needs.
Verification lead at an automotive semiconductor startup
It is unlikely that you will have the personnel needed to fully staff your new verification team. You may have some interested engineers, but probably too few and without sufficient training and experience. And there are start up costs. For example, when you verify your first design you must create and validate models for all of the blocks. On subsequent designs, you only need to do that for any new blocks. The remaining models can be reused, perhaps with a few tweaks.
Access to qualified analog verification services is a key factor in assuring first time success. Use it to take some of the load off your verification team as it builds experience and to build up your stable of validated models. On subsequent designs, you can taper your use of services to fit you needs and budget.
Designer's Guide can provide experienced verification engineers to help get started. Once started, most continue to use these service on an on-going basis as they are quite cost-effective.